Amistad sets sail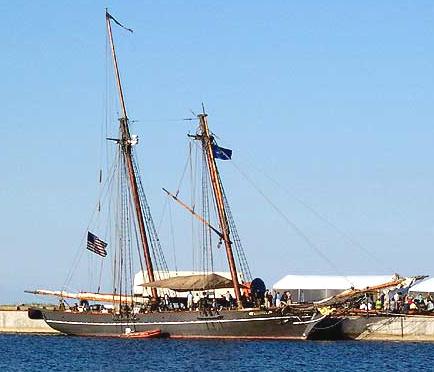 If I busy packing my bags for my trip to Newport for the weekend,
I would have been in New Haven to witness this event.
It was blue sky, fair wind and high tide as the freedom schooner Amistad set sail from Long Wharf on its trans-Atlantic voyage Thursday afternoon.

The dock was packed with people from all over the Northeast as the final of umpteen ceremonies was held on-board ship. One of them was New Havener Deal Morais. She was one of many who talked of history and God. "It's history and learning about our heritage, and what we went through and what other people went through in their trials and tribulations. Thank you, Jesus."

[...]

The 18-month, 14,000-mile voyage includes stops in England, a homecoming in Sierra Leone, and a sail through the Caribbean, from which the original Amistad set sail with its 53 captives in 1839.