Leader of hate group runs for Senate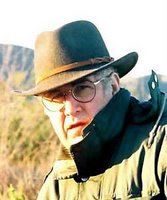 Oh, happy, happy, joy, joy! My dreams have come ture!
Paul Streitz, leader of the "anti-everybody but white people" hate group Connecticut Citizens for Immigration Control announced today that he's challenging Joe Lieberman for United States Senate. I can't tell you the amount of material I have on this wingnut and I'm going to have so much fun sharing what I have with everyone.
I'm sure those in the Republican Party are happy.
and they can thank Mark Boughton for Streitz's popularity.
The first Republican willing to undertake the daunting task of unseating Sen. Joseph I. Lieberman, D-Conn., will formally announce his candidacy Tuesday in West Hartford.

Paul F. Streitz, a Darien businessman who unsuccessfully sought his party's nomination for Senate in 2004, will challenge Lieberman on a platform primarily opposed to immigration from Mexico.

"It is time to get the troops out of Iraq and put them on the Mexican border," Streitz said in a statement. "Thousands of Mexicans and other illegal aliens from other countries come into this country every day. This is an invasion, not immigration."

Streitz, who calls Lieberman one of "the most traitorous U.S. senators" because of his support for policies like the North American Free Trade Agreement, will have a tough time beating the incumbent senator.

According to its most recent federal campaign filing, the Lieberman campaign has so far raised more than $5.9 million for Lieberman's re-election.

Streitz, who is trying to raise $20 contributions from 1 million Americans,

has so far netted $80 in the effort

, according to his Web site.

Republican State Chairman George Gallo said the party would field a candidate against Lieberman, but Streitz is the only Republican to put his name forward so far.

Gallo could not be reached for comment today,

but Streitz's name is not on the party's list of 2006 candidates featured on its Web site.
MexDonaldsBoy
only has 80 bucks to his name. Too funny! What's wrong, your followers are too poor to help you out. Sounds like you collected 1 dollar from every one of your wackos who attended the silly anti-immigration forum in Danbury earlier this month (FYI: The hate group only attracted
80 people
out of a city of 80,000.