Although DeLuca plead guilty, he should be investigated for possible wrongdoing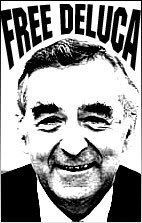 Here's the latest
on the Minority Leader Louis DeLuca's case.
Senate Minority Leader Louis DeLuca pleaded guilty Monday to a misdemeanor threat charge for asking a businessman with suspected mob ties to threaten someone he believed was hurting a relative.


DeLuca, 73, was sentenced to a six-month suspended sentence, a $2,000 fine and ordered to donate $1,500 to charity as part of the plea deal.


[...]


The judge also ordered DeLuca not to have further contact with Danbury trash hauler James Galante, who is awaiting trial on 72 counts of tax fraud, racketeering, threatening and extortion following a federal probe of organized crime in southwestern Connecticut's trash industry.


Authorities arrested DeLuca on Friday, saying he struck a deal in 2005 with Galante to threaten someone who DeLuca believed was having an abusive domestic relationship with one of his relatives.


Authorities said the men discussed the situation at a Woodbury diner and Galante passed DeLuca a note that asked, "Do you want me to have someone pay him a visit?"


Authorities said DeLuca told Galante "yes" and gave Galante the name and address of the alleged abuser.
Hopefully, those at the Capitol will look further into any wrongdoing on behalf of DeLuca because of this key portion of the article.
DeLuca and Galante met in 2001 when Galante made a large contribution to a charitable cause sponsored by DeLuca. DeLuca had Galante named Italian-American of the year by the Italian-American legislative caucus.


Authorities also said DeLuca promised an undercover agent that he would use his influence to discover anything that could hurt Galante, and "blunt it as best I can." However, he rejected the agent's offered $5,000 bribe, according a law enforcement arrest affidavit.
Using the office of Minority Leader to "discover anything that could hurt Galante and 'blunt it as best I can'" is very troubling and needs to be investigated sooner rather than later.